Archives by date
You are browsing the site archives by date.
CHANS Lab Mission and Research Overview: Our mission is to conduct cutting-edge analysis and modelling of social-ecological systems, for both fundamental insight and application to real-world practice and transformation–to enable the just treatment of current and future people and the natural world. Our work in the natural sciences focuses on including humans and evolution in ecological […]
Echeverri, A., L.O. Frishkoff, J.P. Gomez, J.R. Zook, P. Juárez, R. Naidoo, K.M.A. Chan, D.S. Karp "Precipitation and tree cover gradients structure avian alpha diversity in North-western Costa Rica." Diversity and Distributions 0(0). Doi: 10.1111/ddi.12932
Westwood, A.R., S.P. Otto, A. Mooers, C. Darimont, K.E. Hodges, C. Johnson, … K.M.A. Chan, … J. Whitton (2019). "Protecting biodiversity in British Columbia: Recommendations for developing species at risk legislation." FACETS 4(1): 136-160. Doi: 10.1139/facets-2018-0042
Congratulations to Alberto for his UBC Four-Year Fellowship and an Ocean Leaders Graduate Fellowship!
Congratulations to Jo for this SSHRC Canada Graduate Scholarship (Doctoral)!
Jo and Alberto will be joining as PhD students in September, Jo from the University of Waterloo and Alberto from Aquasis in Brazil.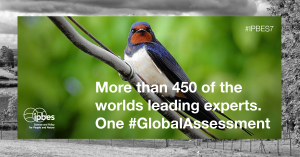 At IPBES 7 in Paris, Kai Chan and others negotiated the text of the IPBES Global Assessment with 132 member nations. The release of this landmark UN report on nature generated a great deal of media attention including on CBC's News Network, CBC's Front Burner, CBC's Power and Politics, and many more.